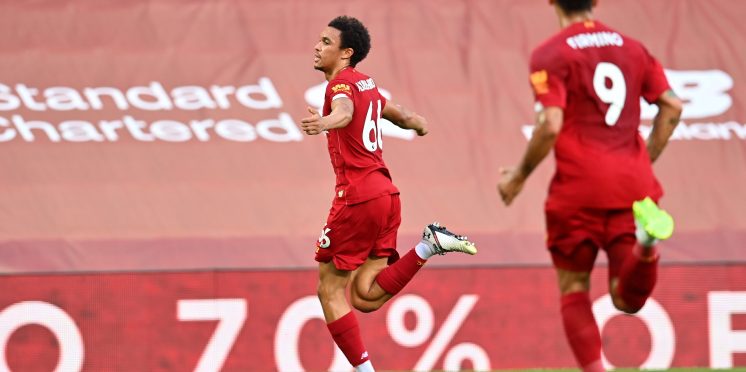 The Big Question: What does the future hold for Liverpool star Trent Alexander-Arnold?
Trent Alexander Arnold continues to write his own history as a generational talent, becoming only the third Scouser to win the Premier League.
His delivery from the wide right is up there with the best players in Europe, like Kevin De Bruyne, and he emains one of Liverpool's main assets when dictating a match.
However, despite being highly successful in the right-back position, question marks have always remained over whether Trent would find himself playing in a midfield role in his later years. This is the position he played in when breaking through at the Liverpool academy.
There is no doubt that Trent has the ability and the awareness to play in midfield, but he will have a question to answer if Klopp ever decided to place him there. 'Do you want to be the best right-back in the world or a top midfielder where there is more responsibility? '
Trent has always stated that the inside right channel was the space he used to play most of his game, similar to his idol Steven Gerrard on the right of a midfield three. However, ever since excelling in the right-back position, he is just as important to Klopp's system as any other player.
The emergence of Neco Williams could also raise question marks as to whether Trent will see himself further forward after the Welshman has impressed in the limited number of appearances he's made so far.
Perhaps it was an indicator from Klopp, during the Aston Villa victory when he brought Williams on to play left-back. It would be very useful to Klopp to have a player who could be backup to both Trent and Andy Robertson, and using Williams in such a manner could see Trent stay in his preferred right-back position in the future.
At present, Alexander-Arnold is perhaps the most influential player in one of the best football sides in the world.
It's astonishing to see how a right-back can dictate a game as he has been under Klopp. The likelihood is that Alexander-Arnold will outlast Klopp at Liverpool and a future manager could see Trent in a more forward role, whilst it would make little sense for Klopp to change a winning formula.
For now, as long as Alexander-Arnold keeps putting up the insane numbers that he has in the last two years, he doesn't need to be played anywhere else.
---