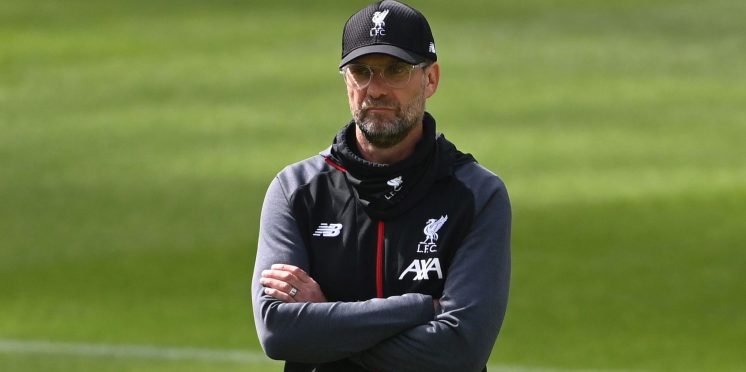 Opinion: The major transfer dilemma Liverpool face ahead of the 2020/21 season
When Liverpool lifted the English Premier League on 23rd July 2020, fans worldwide celebrated through ecstasy and joy, emotions from the manager to players and everyone associated with the Club, all of them were on the same tune and were proudly singing, "You Will Never Walk Alone". Even though empty stadiums contributed to the lack of spectators due to the pandemic, none could argue that they didn't deserve it. They were utterly brilliant.
Perhaps when Jurgen Klopp first signed on 8th October 2015, every Liverpool fan tuned themselves to Klopp's philosophy or culture. One that stood out, in that interview was about Liverpool's history and the answer given by Jurgen Klopp was magnificent. It was a similar question, raised by Steve McManaman in one of his interviews, wherein Klopp's witty reply was "It's like my Grandfather won something in some year." Immediately, the cameras turned to Steve McManaman, he couldn't hide his smirk, every Liverpool fan would agree to this, perhaps they would get into an argument with other Club fans about Liverpool history, it was a base for all the other Clubs fans to make a mockery of Liverpool's history.
There was no argument on what Jurgen Klopp said, was right or wrong, many Liverpool fans would agree, Liverpool's tradition and culture being such a vital cog in the Club ethos. Perhaps, the most important thing was, Klopp seemed to have fitted in almost seamlessly. The ride what Liverpool have experienced until now seems to be a fairytale, every Liverpool fan has cried out, for a Manger like Jurgen Klopp. The fans adore him, the rivals rejoice his passion what he shows on the touchline, pundits admiration for his tactical acumen and his man-management skills are second to none.
Well, they say in Sports, reaching to the top is the easiest thing, staying at the top is even harder, for every Liverpool fan even to think of questioning of Klopp's ability to lead to the future is such a farce; from new Kirkby training ground to a new sponsorship deal with Nike, has only raised hope where Jurgen Klopp's project would travel beyond the expiration of his contract.
It's safe to say today, after Jurgen Klopp's arrival, most Liverpool fans are FANS, not MANAGERS. Well, there seems to be an enormous power that has been provided to Jurgen Klopp, by the Club hierarchy, players, and fans, "God Like Status" as famously described by Jamie Carragher. When Liverpool fans support or follow a Gaffer, they do with sincerity, earnestness, and shrewdness, perhaps why Liverpool fans are described as the most intelligent fans around the World.
The thing with Jurgen Klopp is, he is unlike Arsene Wenger, allowing a new kid and asking him to fill the void of First Team, but Klopp's approach seems to be a plan or a vision involved in encouragement of the kids, it's a very hard thing as a manager, to nurture raw talent, harness their use, fill the gap of the First Team, without succumbing to results on and off the pitch. There are several top managers, who have struggled to blend a new kid to First Team; they would rather prefer to buy a readymade player that is available on Transfer Market, Jose Mourinho fits into that example.
The word patience seems to be not provided in the manager's dictionary, wherein, they are under such constant pressure to deliver. Well, Liverpool fans and board seemed to have given Jurgen Klopp time, today everyone associated with the Club is reaping the benefits. It would be, quite a story if Jurgen Klopp could somehow nurture younger talented players to First Team and would provide a platform for Michael Edwards and his team, to first exhaust their resources at Kirkby (U-23), then to look into the Transfer Market, which would be some story for everyone associated with the Club.
The global pandemic, empty stadiums, job losses across the world, FSG are not going to spend their money unnecessarily this year, the big spenders would be there, it's fair to say Liverpool are more educated in Transfer Market and using their alternative resources (players U-23) to fill in their gaps, it was on a similar situation, wherein Liverpool did not buy any player in the Transfer Market last season. To add more quality players or just to refresh players seems to be a new debate amongst the fans and pundits.
One debate is, to add a new player (Example: Thiago Alcantara) or to promote a youngster (Example: Curtis Jones) for departing Adam Lallana, which is with a lot of permutations and combinations. Considering, Wijnaldum is in the last year of his contract, James Milner's age, but not questioning his fitness, or professionalism, looking at Grujic rise in Bundesliga; the enigmatic and injured Keita, the power of Ox Chamberlin, and the rock of Fabinho, our captain Fantastic Jordon Henderson. Jurgen Klopp must have some kind of an idea about this; the chemistry which is involved, the evolution of midfield, but players like Thiago don't come around on every Transfer Window, perhaps, Liverpool could pass this summer Transfer Window, and would go all guns blazing to sign Thiago in January Transfer Window for a substantially reduced fee, considering the global financial reasons.
Questioning Klopp, Edwards, FSG judgment would be foolish, but they are humans as well, any decision either of them takes, would be accepted by open arms by the majority of Anfield faithful. Gray Neville in one of his interviews highlighted what Sir Alex Ferguson did, how it affected their shape or chemistry in creating consistency of getting trophies regularly. Jurgen Klopp's done it before and would deliver again, to be backed by famous Money Ball theory along with Liverpool's Guru Sporting Director Michael Edwards, recruitment has been one of the hallmarks of the Club. Most Liverpool fans, would be praying for Thiago to Liverpool, would seek an intervention of the Divine, to answer their prayers, Liverpool fans do not want Jurgen Klopp to go wrong, it's more of an input and care provided by Liverpool fans to Gaffer and Board, rather than opinion or order.
The thing with Youth Development or our Academy Graduates, it's nice to see, from Curtis Jones to Harvey Elliott, there is hope for Liverpool's future. But these kids need to harness, in the right environment, loaning back them to Championship or Abroad would provide an opportunity to these kids to improve, and would provide a tool to Klopp finally to see whether these players would fit into First Team. If you look at Chelsea, Tammy Abraham got his chance and he did put a stellar performance and Chelsea seemed to finally provide a gateway to the youth to their Starting XI. All the young players from the academy have got their opportunity, only due to Transfer Ban being imposed on Chelsea. Just look at Chelsea's recruitment, to date, there seems to be no room for youth for the upcoming season.
Shaqiri, Origi, and Thiago Alcantara (provided Liverpool sign him) are more valuable to the team currently than Curtis Jones, Brewster, or Harvey Elliott. It's one thing to be a young kid talented, it's another thing to get into the first team, remember Ben Woodburn, he was seen as a shining example of the academy, look where he is ended up into, he would be the first one out this summer. Shaqiri, Origi, and Thiago Alcantara would provide more to the First Team, during rotation of the squad, substitutions during the match, the odds of them scoring when the team is 2-0 down to win 2-3, is more important to Liverpool than Curtis Jones, Brewster or Harvey Elliott scoring at when the team is leading 3-0.
A couple of seasons ago, Harry Wilson, Ryan Kent, and Marko Grujic were all considered to be having a future under Klopp. Now, these players are much more senior to Curtis Jones, Brewster & Harvey Elliott, look at their development, these players do not have the cut to make it to the senior team, Klopp seems to have mastered the usage of First Team players, Squad players, and youth, so players like Harry Wilson, Ryan Kent, and Marko Grujic were given promises from the Gaffer, but their performances were nowhere good enough to get into First Team. So, Klopp wisely loaned them to different parts of Europe, without affecting First Team performances, Klopp is prudent enough to understand, these players seem to be not adding value to the current squad, wherein Klopp is happy to encash on them by selling them.
Players like Curtis Jones, Harvey Elliott, Brewster, Neco Williams, Van Den Berg, etc, are wonderful talented kids, with an abundance of potential, but their potential should not be wasted, Klopp or Academy should loan these players and should provide a time for Klopp and Academy to study these wonderful potential players to develop them into players, who could fit into Liverpool Squad. The word is patience, for any footballer, time is a constraint, so Klopp and Academy should loan these players out, assess them, before putting them back to current First Team.
Most Liverpool fans, Klopp and FSG would love to see more players like Trent Alexander Arnold in the starting eleven, rather than a new signing, but reality, the majority of youngsters failed to fulfil their potential due to numerous reasons. So the basis of promotion, to First Team either by Academy or summer signings, should be solely based on numbers, statistics rather than an emotion or a gamble. Statistics of Thiago Alcantara does not please the FSG, Michael Edwards, value for money, numbers, and statistics are essential before Liverpool approach Thiago Alcantara.
Experience players or players from the age of 22-32, have vital elements to their game which are essential for any squad. The players hitting their peak or at their peak are required, more to the team, than a player who is yet to reach his potential to the squad. The problem with Football or Life is we are judged on the performances of today, rather than the history of yesterday or the potential future of tomorrow. So, FSG needs to be shrewd, vigilant, and intelligent in their investments of buying players, wherein replacing players like Lallana, Lovern is paramount to Liverpool's success. The word Experience should be read on a higher note, than a Potential or a Future.
---