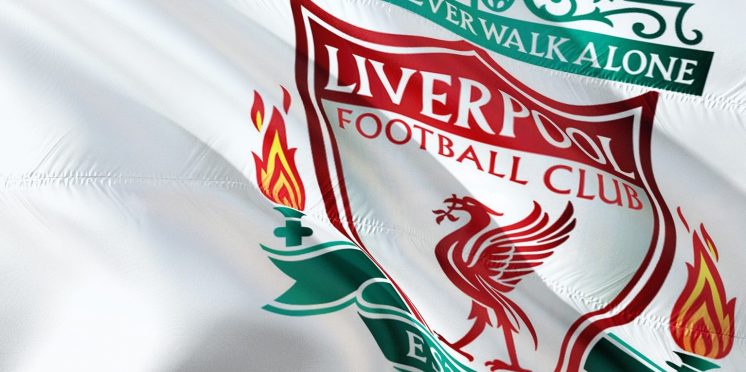 Infogol's Steven Railston uses expected goals to asses Liverpool's chances of success in the new season and highlights the players that will be key as the Reds look to secure back to back titles.
19/20 Actual Position: 1st
19/20 Expected Position: 2nd
20/21 Forecast Position: 2nd
Last Season
After 30 years of hurt Liverpool were crowned champions of England, winning the Premier League for the first time in history.
Klopp's men won it in emphatic style as they finished 18 points clear of Manchester City who the year before had looked unstoppable.
Liverpool are now the team to beat and despite showing vulnerability towards the end of the season, their rampant football was at times unplayable.
Now they must go again and as their rivals look to improve can they sustain the same level of performance and clinch back to back titles for the first time since 1984?
Any changes?
Klopp seems happy with his squad and hasn't made any major changes. Adam Lallana has struggled for playing time since overcoming injury problems and has left for Brighton on a free transfer.
Whilst Dejan Lovren has been allowed to join Zenit as Virgil Van Dijk and Joe Gomez seem to be the preferred centre back pairing.
The only incoming player is Kostas Tsimikas from Olympiakos. The attacking left back offers strength in depth and will keep Andy Robertson on his toes.
Key Player
Mohamed Salah had another outstanding season, whilst Sadio Mané brought his game on to the next level and it's difficult to pick between the two forwards.
Salah scored more goals with 19, however Mané was more clinical with his chances as he scored 18 from 14.34 xGoals. Salah marginally underperformed in terms of goalscoring as he had 20.24 xGoals.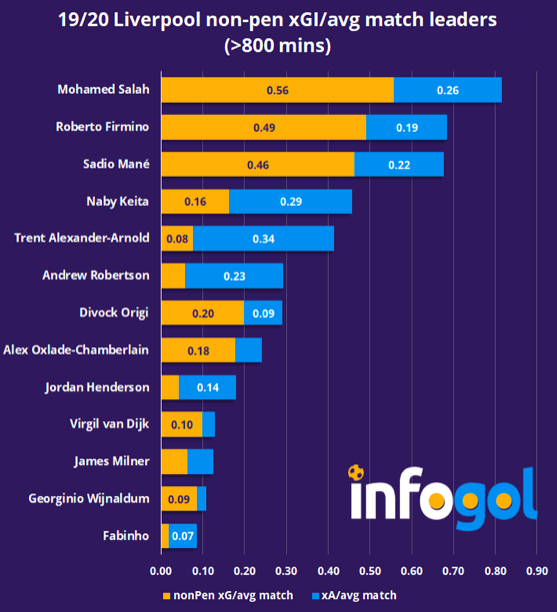 Liverpool 19/20 non-pen xGI/avg match leaders
However, Salah led the way for non-pen xGI at the club, averaging 0.82 non-pen xGI/avg match.
Roberto Firmino was second on this metric, averaging 0.68 xGI/avg match, whilst Mané wasn't far behind the Brazilian.
The front 3 have been Liverpool's biggest threat under Klopp and if Firmino can elevate his form to the level of Salah and Mané it will be a frightening prospect for opposition defences next season.
Ones to watch
Trent Alexander-Arnold has already won the Premier League and Champions League and at 21 years old looks to have many more successful years in front of him.
The Scouser led the way at Anfield for xAssists last season, averaging 0.34 xA/avg match. Manchester City's Kevin De Bruyne and Riyad Mahrez were the only player's who had played more than 800 minutes who recorded a better xA.
It's difficult to remember a player who makes such an impact on the game from right back. Without his energy and athleticism Liverpool are a much weaker team and he contributes so much to their attacks.
Rhian Brewster has been linked with several clubs during the transfer window but if he remains at Anfield next season could prove a real asset if given playing time. During a successful loan period at Swansea he recorded 0.53 xG/avg match and proved clinical in front of goal bagging 11 goals from 7.91 xG.
Infogol verdict
It's always harder to defend the title and before Man City won back to back leagues in 2017/18 and 2018/19 it hadn't been done in 11 years.
The ambition and desire to win that Klopp has injected into the club though suggests Liverpool won't rest on just the one. With obvious rivals City looking to come back stronger and Manchester United, Chelsea and Tottenham all looking to make big improvements its shaping up to be one of the most competitive seasons yet.
Infogol calculate there is a 38.9% chance that the title ends up at Anfield again, as the Reds retain the league in almost two out of five simulations.
---