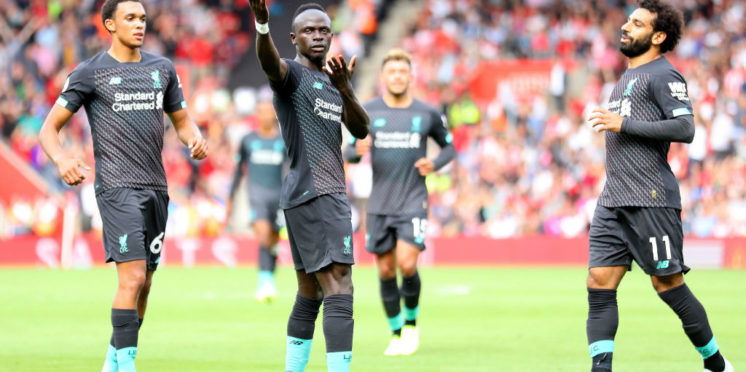 Liverpool 2-1 Southampton: Exit Poll
Sadio Mane and Roberto Firmino scored the goals as Liverpool ground out the win 2-1 over Southampton Saturday.
Read Liverpool's Tristan Fitzpatrick and Ste Hoare discussed the events at St.Mary's. 

Reds looked leggy in the first half, lucky to have a 1-0 lead at the break? 
Tristan: It certainly wasn't pleasant viewing, and I don't think we had a sniff other than the Mane strike. I think a better team would have punished us with that sustained pressure too.

Ste: Not sure if lucky is the right word as it was a few moments of brilliance that led to us having the lead but we were certainly under the pump. Adrian's save from Yoshida and Mane's wonder-goal were the two big moments and thankfully, both went our way.
Mane, Firmino and Salah all started after the Super Cup, was it worth the injury risk?
Ste: I think so, yes. Such is the competition in the league, those three will have to play pretty much every week, especially in away games. All three looked sharp and fit too, so I don't think it was a gamble at all.
Tristan: That's a fair point, it's this thin line because without Mane we probably wouldn't have won, but if he gets injured then we might not win the next game. That being said I don't think Origi did so bad against Norwich or Chelsea.
Oxlade Chamberlin started his second game in a row, this time in central midfield, what did you make of his game?
Ste: I thought he played well, much better than in midweek. He looks much more comfortable in midfield and had an impact both in terms of attacking and defending.
Tristan: Took a while to get his feet under him, as the game progressed we got better and so did he. Genuinely excited to see him get back to form especially with Keita injured.
Southampton had their chances, should we start worrying about the defence?
Ste: I am already worried to be honest, but I can't quite put my finger on what's different, other than the goalkeeper, of course. Strikers keep getting into good positions to score against us, which didn't happen often last season.
Tristan: Me too, something is seriously off. I think teams have had a real hard look at us over the summer and something has been noticed. I trust Klopp to right the ship though.
An absolute nightmare goal for Adrian, do you think it will effect his confidence? 
Tristan:I don't know about his confidence, but it certainly hurt my confidence in him. Way too casual and the way our defence is playing we can't afford to let teams back into games like that.
Ste: I hope not, but I hope it gives him a kick up the backside like it did for Alisson when he made a similar howler away to Leicester last year. Adrian's actual goalkeeping was excellent but he was far too casual with the ball at his feet. He seems like a confident guy, so I think he'll be fine but strikers will constantly be pressing him now so he needs to sharpen up, and do so quickly.
Liverpool won that by the fibres of Danny Ings' boot, did they deserve it in the end? 

Ste: I'd say yes, mainly because the game was dead until Adrian produced that howler, plus we missed a sitter of our own too. However, Southampton will think they deserved something from the game but ultimately, it was our quality that was the difference.
Tristan: Im not as confident as you, I don't like being a doom and gloomer but we can't get be relying on wonder-strikes to win games. You are right in that the Adrian howler made it closer than it was though. At the end of the day just delightedly with three points.
---