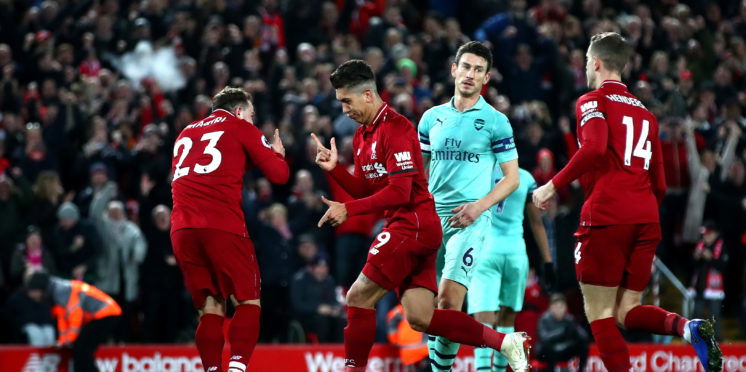 Ranking Firmino's eight goals against Arsenal
Roberto Firmino is undoubtedly one of the world's best forwards, thanks to his performances for Liverpool and Brazil.
The South American arrived at Anfield from Hoffenheim back in 2015 and has since made 196 appearances for the Reds since, scoring 67 goals and providing 49 assists along the way.
Firmino has forged a lethal partnership in attack with Mohamed Salah and Sadio Mane, with the trio scoring a total of 154 goals since the start of the 2017/18 campaign.
This season, the 27-year-old scored his first goal of 2019/20 at Southampton last weekend and will hope to net a few more on Saturday when Liverpool take on Arsenal.
Firmino has featured in all of the matches against the Gunners since his arrival at Anfield, and as of this point, he has netted eight goals.
He scored his first hat-trick for Liverpool the last time the two sides met back in December, as the Reds cruised to a 5-1 win.
Having taken a look back at Firmino's eight goals against Arsenal, we've ranked them from worst to best.
Do you agree?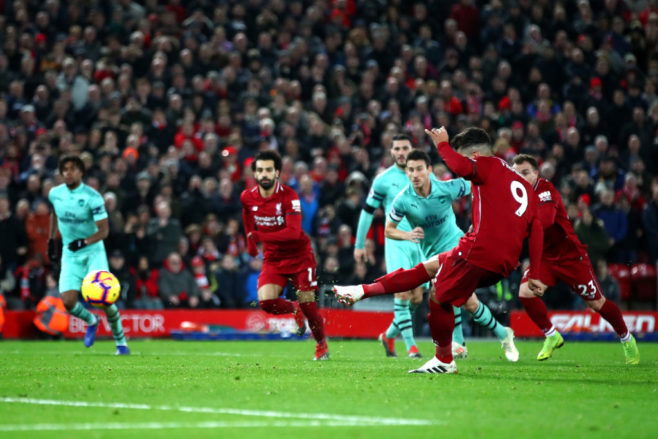 8. Liverpool 5-1 Arsenal (2018/19)
This was Firmino's hat-trick-completing goal in Liverpool's aforementioned clash with Arsenal at Anfield last season.
The Reds were leading 4-1 when Sead Kolasinac fouled Dejan Lovren in the penalty area, with referee Michael Oliver awarding a spot-kick.
Firmino stepped up and found the target, sending Gunners goalkeeper Bernd Leno the wrong way.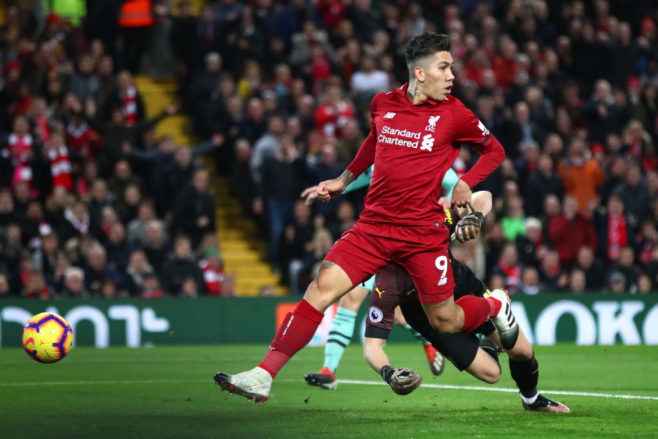 7. Liverpool 5-1 Arsenal (2018/19)
Arsenal had opened the scoring thanks to Ainsley Maitland-Niles, but just a few minutes later, Salah was entering the Gunners' penalty area.
Lucas Torreira's challenge was enough to dispossess the Egyptian and the ball landed towards Stephan Lichtsteiner, but he was unable to hold on to it.
Firmino was on-hand to produce one of his famous no-look finishes and draw Liverpool level.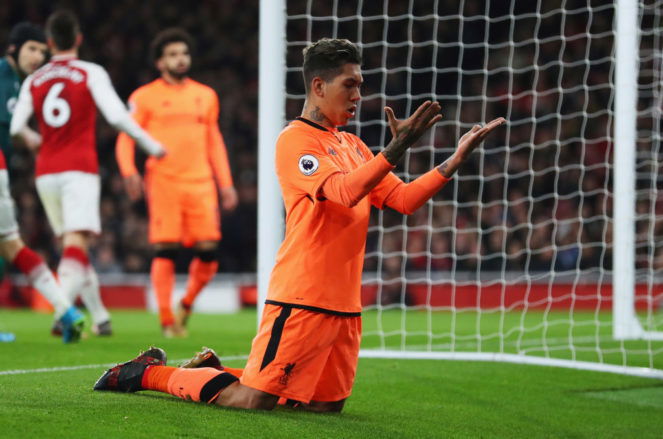 6. Arsenal 3-3 Liverpool (2017/18)
Liverpool were on a nine-match unbeaten run in the Premier League when they travelled to north London in 2017/18.
The Reds went 2-0 up thanks to goals from Philippe Coutinho and Salah, but Arsenal scored three times within the space of five minutes to take the lead.
In the 71st minute, a pass from Emre Can found Firmino, who took a shot at goal. Petr Cech managed to get a touch on the ball but it wasn't enough to stop it from entering the net.
No more goals were scored and the match eventually ended in a 3-3 draw.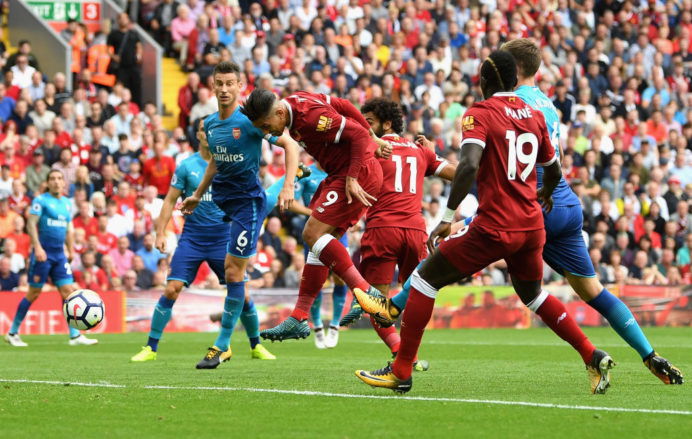 5. Liverpool 4-0 Arsenal (2017/18)
It was Liverpool's third match of the season and Arsenal were their opponents, back in August 2017.
After just 17 minutes, a cross from from the right-hand side found Firmino, whose header nestled in the net to open the scoring.
Jurgen Klopp's side eventually won the match 4-0, with the other goals scored by Mane, Salah and Daniel Sturridge.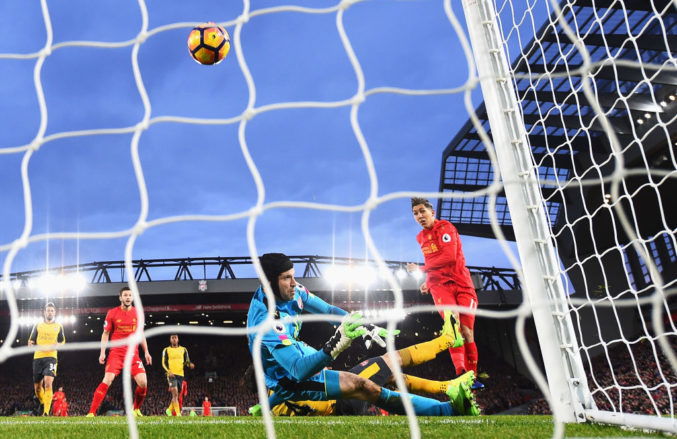 4. Liverpool 3-1 Arsenal (2016/17)
After suffering a 3-1 defeat to Leicester City, Liverpool were up against Arsenal at Anfield.
Just nine minutes into the match, a low cross from Mane found Firmino and he controlled the ball before shooting past Cech to make it 1-0.
Liverpool eventually won the match 3-1, in one of their more impressive home wins of the season.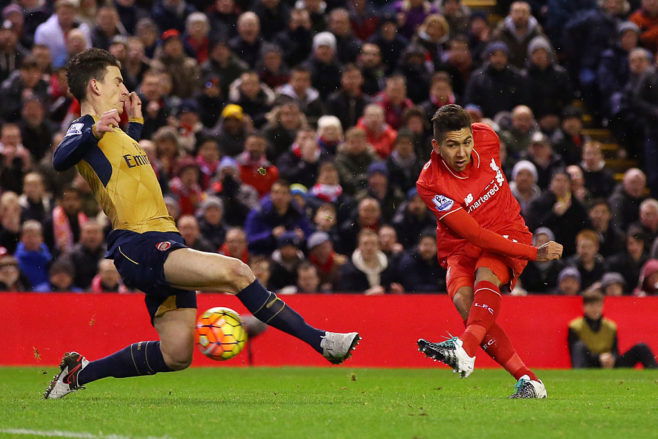 3. Liverpool 3-3 Arsenal (2015/16)
After losing 2-0 to West Ham, the Reds were up against table-toppers Arsenal at Anfield in 2016.
Just 10 minutes into the match, a powerful shot from Can was blocked by Cech, but the ball went towards Firmino whose left-footed shout found the net and opened the scoring for Liverpool.
This was the Brazilian's first goal at Anfield, in a match that eventually finished 3-3.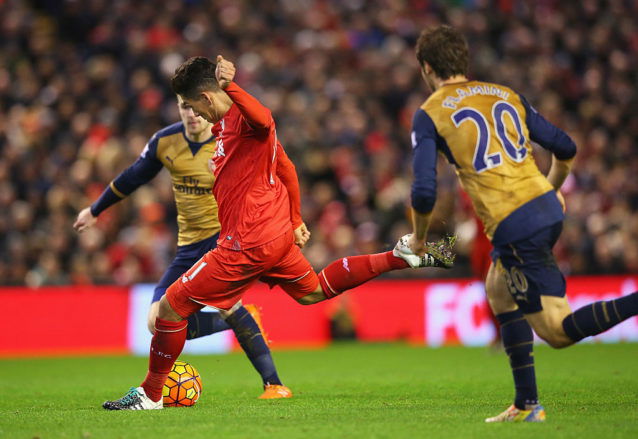 2. Liverpool 3-3 Arsenal (2015/16)
Firmino had opened the scoring for Liverpool, as mentioned above, but his best moment of the night followed soon after.
The Gunners found the equaliser through Aaron Ramsey in the 14th minute, but just five minutes after the goal, Firmino struck a brilliant curling shot from outside the penalty area which restored Liverpool's lead.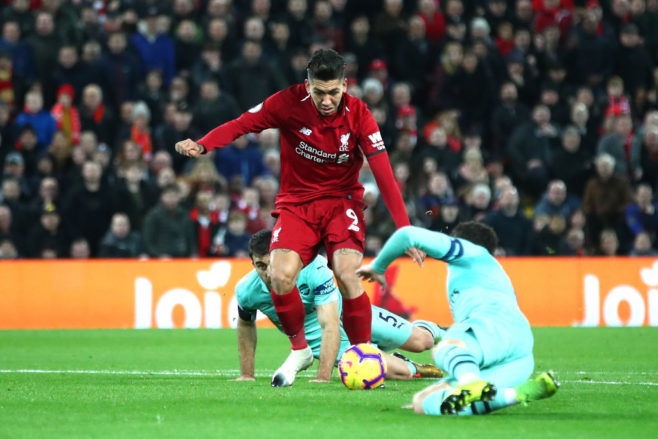 1. Liverpool 5-1 Arsenal (2018/19)
At top spot, we have Firmino's second goal in Liverpool's 5-1 win at Anfield last December.
Maitland-Niles and the Brazilian had exchanged goals, and in the 16th minute, Firmino made a run forward and beautifully dribbled past Shkodran Mustafi and Sokratis before finding the net to put Liverpool ahead.
Can he go one better on Saturday night?
Is Firmino Liverpool's most important player?
Yes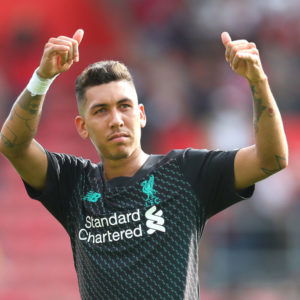 No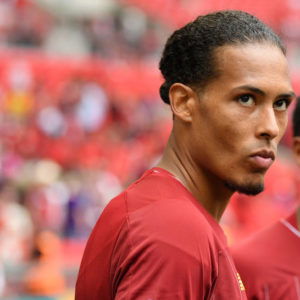 ---