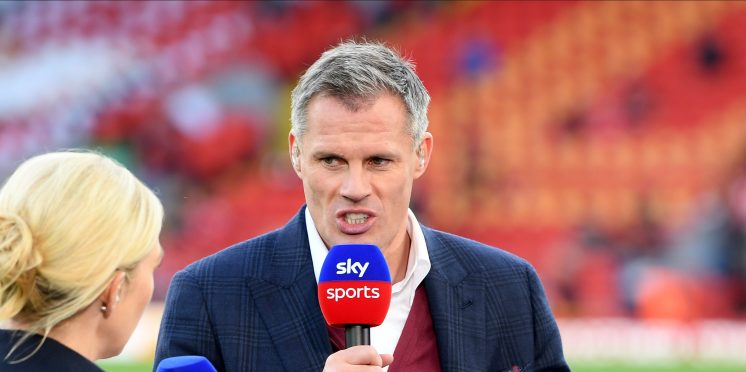 Man United fans applaud Carragher for apology over Suarez incident
Jamie Carragher was caught up in the race row between Luis Suarez and Patrice Evra back in 2012, which saw the Liverpool striker banned for eight matches.
At the time, Carragher and his Reds teammates stood by the Uruguayan, even wearing t-shirts in support of him, which received plenty of criticism.
The Reds legend was joined by Evra in the Sky Sports studio on Monday night, where he made a concerted effort to apologise for his behaviour:
There is no doubt that we made a massive mistake. That was obvious.

Apologies. We got it massively wrong.
These Manchester United supporters have praised Carragher for his apology and honesty on Twitter.
Fair play that he admitted they were wrong

— FPL Maestro (@XxFPLMaestroxX) October 21, 2019
class from Jamie

— anonymousunited (@anonymousUTD7) October 21, 2019
Class that from him. Takes a man to admit a mistake and own up to it.

— Vaibhav (@bawejavaibhav) October 21, 2019
Jamie Carragher has gone up in my estimations. 👏

— Mikee (@Mikeefitz7Mikee) October 21, 2019
Fair play to the man… they all wore those shirts, not their choice (individually) for sure… you defend your teammates, and it takes a big man to then say it was wrong.

— Chandler Ford (@CForiginal) October 21, 2019
It takes a lot to admit that you were wrong. Fair play to Jamie for that 👏

— Rhys Carter (@RhysCarter1994) October 21, 2019
Read Liverpool Verdict
In hindsight, Liverpool's decision to support Suarez was unforgivable and Sir Kenny Dalglish, his players and the supporters should not look back at the issue with any fondness.
Carragher deserves credit for his apology – regardless of the situation, some people are often too stubborn to ever admit they were wrong.
It is important for people of his stature to be speaking so openly against racism, in order to eradicate the issue entirely.
---