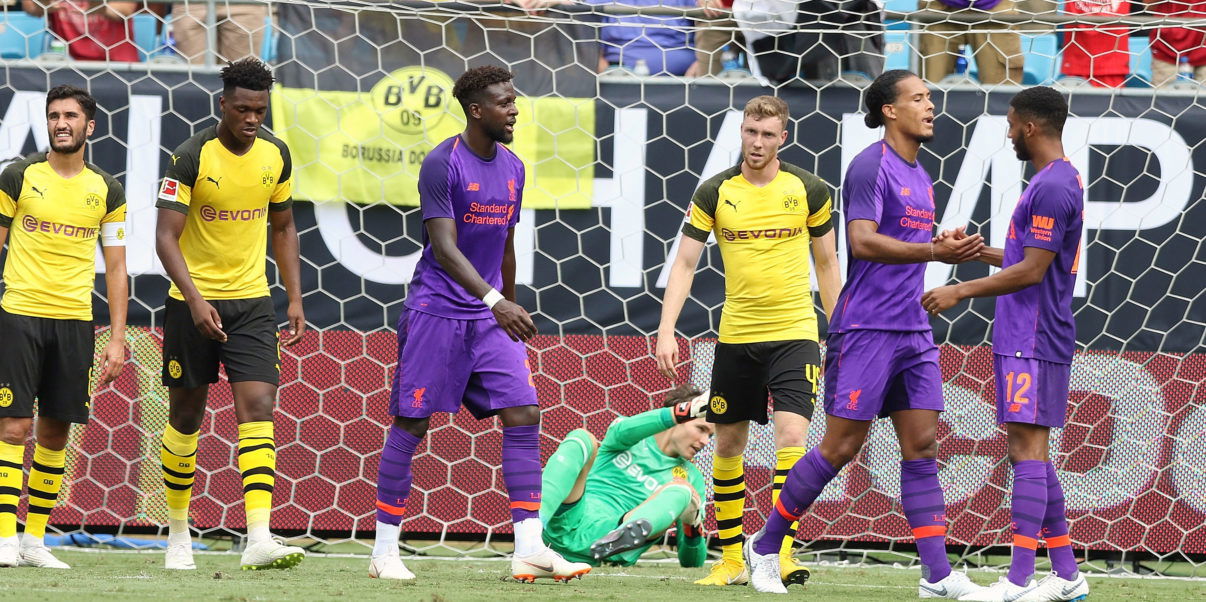 Quick Notes: Borussia Dortmund 3-1 Liverpool
Throughout the entire 2018/19 campaign, I'll be re-watching the entire 90 minutes of every single Liverpool game, which is something I've been doing for games over the past few seasons anyway. As I re-watch, I take down some quick notes and, this year, I'll be sharing some of those in article form here at Read Liverpool.
---
Liverpool's tour of the USA got off to a poor start, results-wise, as they fell to a 3-1 loss to Borussia Dortmund at the Bank of America Stadium in Charlotte, North Carolina.
Despite taking the lead thanks to an excellent header from Virgil van Dijk, Liverpool shipped three late goals, mainly down to their own errors, to end up on the losing side.
Like I've said all pre-season, it's tough to learn too much from a friendly game in which two separate sides are used, but there were a few things that I took from the match:
Joel Matip hobbled out of the game in the first half with an injury, believed to be a tear to his thigh muscle. His injury record since joining Liverpool has not been great and there is a legitimate case for the Reds looking to replace the Cameroonian.
It was noticeable just how high Liverpool's defensive line was in the first half when the first-choice back-four were all in action together. It allowed the midfielders to press very high up the pitch as the play was very compact. It'll be interesting to see if that is a tactic which the Reds use in the upcoming season.
The elephant in the room then… Loris Karius. He made two horrendous errors, one of which led to a goal. At this point, it seems cruel to have him playing games. We know he's not going to be the number one and there is absolutely no reason to keep him in the firing line now. He needs a break and I really, really hope, for his own sake, that Jurgen Klopp gives him one and doesn't use him in either of the next two games.
Naby Keita was phenomenal once again. With the ball, his drive and vision are like something we've not seen in a Liverpool midfielder for a long time. Without the ball, he fits the Reds' pressing style so perfectly. He was the major highlight of the game.
Nathaniel Clyne will be needed to start the season for Liverpool so it was good to see him last an hour, looking fit and sharp. My only issue was when he had a chance to shoot, he took the safe option. I'd much rather see him be more positive in the final third than he was at that point.
---