Tactical Analysis of an Everton fan throwing a flare on the pitch seconds before Origi's goal
It's been a while but here's the latest instalment of my Tactical Analysis series and, honestly, this one might be my favourite of them all.
As we all know by now, Divock Origi's 95th-minute header earned Liverpool a 1-0 victory over Everton at Anfield.
The goal was my favourite part of the game, obviously, but my second favourite part of the game was when an Everton fan set off a flare to celebrate their 0-0 win, literally seconds before our winning goal.
So, here's my tactical analysis of that very moment:
The Build Up
Firstly, let's examine why the game was still being played at the time the goal goes in.
Well, that's all thanks to Idrissa Gana Gueye.
Like the fella who would end up setting the flare off, Everton's central midfielder was happy with a 0-0 win in his cup final, so he decided to time waste during added time.
Cheers Idrissa mate!
So, Liverpool get a free kick late on, and thanks to our mate Idrissa, there's time for it to go long. Alisson, plays it to Trent, he hits it long, it's cleared and falls to Virgil van Dijk.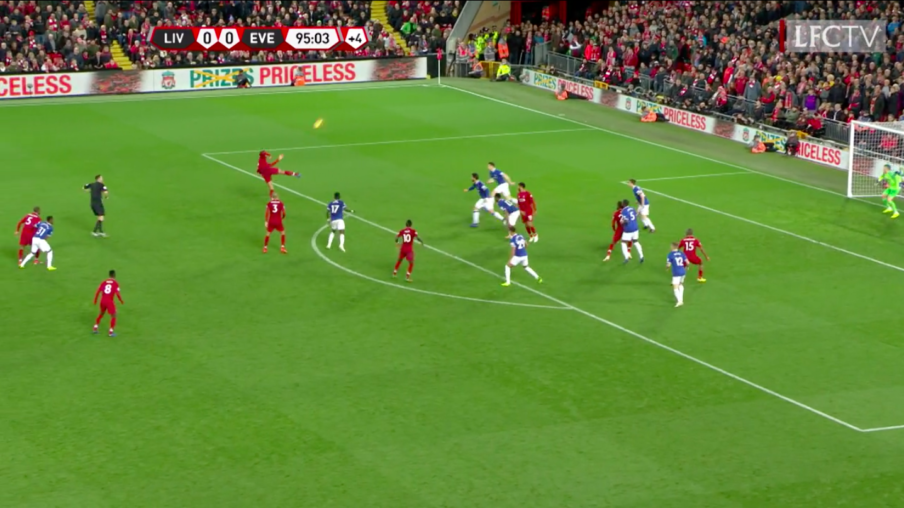 I'll hold my hands up here. When Virgil hit that volley and I saw it loop in the air, I wanted to kill him. I wouldn't be able to kill him because he's obviously a machine, but I wanted to try.
The Moment
Now, this is where the magic happens.
The Blues in the Annie Road End think that's game over.
The cheer when Virgil's shot goes as high as a kite is audible and one Bluenose wants to get the party started, they've just won 0-0 after all, so he sets off a blue flare and launches it onto the pitch.
Luckily for us, Jordan Pickford, who'd been nervous all day, is a bit of a little fella and he can't jump very high at all and he makes a right mess of the looping ball. It hits his teeny weeny little dinosaur hands, hits the bar and falls to Big Div to nod in.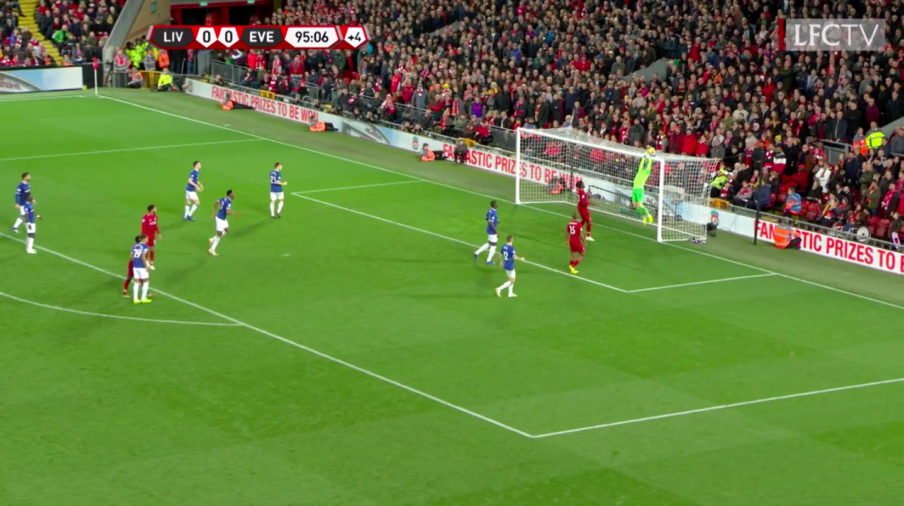 In the clip embedded below (put the sound on) you can hear the cheers when Van Dijk shoots, then you'll see the flare, then you'll hear the goal.
It's wonderful.
It's poetic.
It is the quintessential Everton-ness of it that I love so much.
Twitter: Yes, your eyes didn't deceive you, Everton celebrated a 0-0 draw at Anfield by throwing a pyro on the pitch, second… https://t.co/oVpOpQCCR0 (@LouisL_89)
Celebrating a 0-0, having the audacity to bring a flare to a ground where you've not won since 1999 and the fella who scored the winner that day is now 48-years-old, the fact that he does it before the game is over and their little T-Rex goalie puts it on a plate for our seventh choice striker who loads of people forgot still played for us.
It is just so Everton and I love it so, so much.
So the final whistle goes and there it is in all its glory, that sad little blue flare on the pitch.
It was meant to be different for Everton.
It was meant to be a signification of their famous 0-0 win at Anfield.
It wasn't meant to be this way.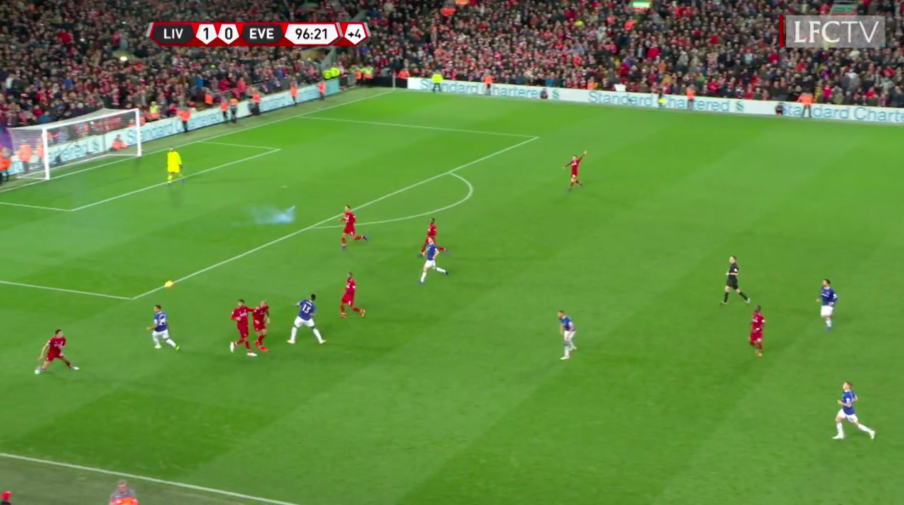 Nevermind lads, there's always next year and at least the Liver Buildings were blue for a bit the other day, so that's nice for you.
---