Tactical Analysis of Alisson's boss, massive, centre-half-esque header
Yeah, Liverpool won 4-0 on Saturday and Man City lost, meaning the Reds went top of the league.
That's all great and everything, but let's be honest, we all know the moment of the weekend was Alisson's header and that's why it's the topic for my latest Tactical Analysis piece.
The Build-Up
Liverpool are 1-0 up at Bournemouth and on the way to taking their rightful place at the top of the Premier League table.
For some reason, James Milner decides the best course of action is to try to play a big switch of play to Andy Robertson, fair enough, but for once, the big Ham Head gets it all wrong.
The Header
Alisson's starting position is on his goalline, but he sees the miss hit and decides that it's time to act.
Truth be told, he probably could have caught the ball but if he did, there'd be a tiny chance of the referee making a terrible backpass call, so the big Brazilian decides he's going to turn into Virgil van Dijk.
He leaps up in the air and honestly, look how high he gets up, that's absurd!
He leaps like a massive, big, pink salmon, knees Josh King in the chest for even having the audacity to come close to him and makes a defensive header that Sami Hyypia would have been proud of.
The Aftermath
King is down, he's just been put on his arse by a fella dressed in luminous pink.
Alisson just gives a look to his teammates as if to say "one of them wasinit?".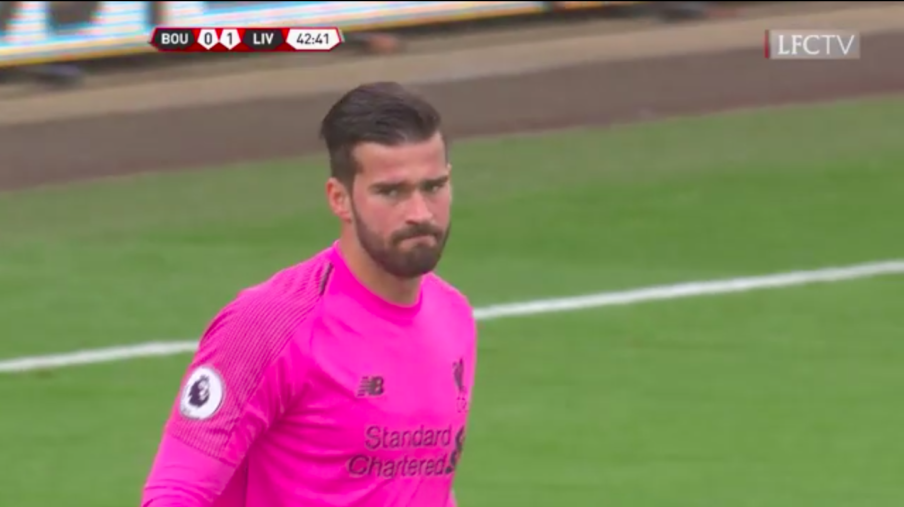 The Reds go on to win 4-0.
Karma pays Steve Cook one back for trying to take Mo Salah's Achilles off.
City lose.
Liverpool take their place as the best team in the land again.
Meanwhile, Jordan Pickford sits at home, knowing that he couldn't reach a ball that high with his hands, because they're on the end of teeny tiny T-Rex arms.
---