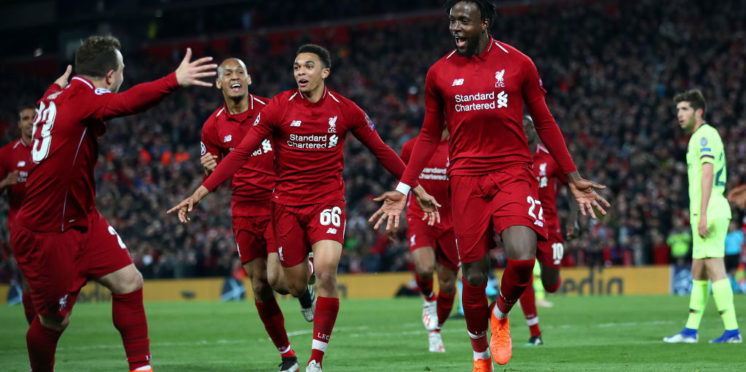 Tactical analysis of Liverpool gloriously seeing out injury time against Barcelona like the absolute heroes that they all are
Have you heard? Liverpool beat Barcelona 4-0. They're off to another Champions League final. We could take a look at the goals from Divock Origi and Gini Wijnaldum, been done to death that though.
So, for my latest tactical analysis piece, I've taken an in-depth look at how Liverpool s**thoused injury time, making five minutes against the best player ever look like a stroll in Stanley Park.
---
It starts with a sub.
Jurgen Klopp sends on Daniel Sturridge to freshen things up and to waste a bit of time. Xherdan Shaqiri strolls off, Sturridge jogs on and the fourth official throws up the board.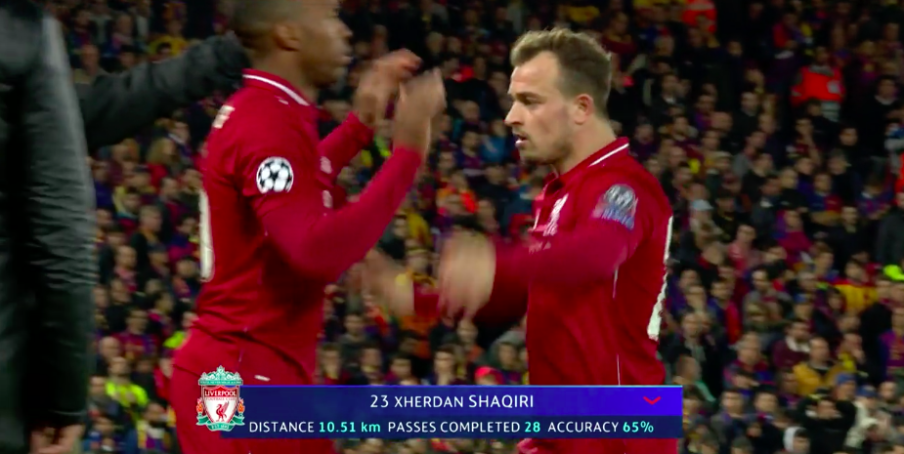 Five minutes to go.
Five minutes between Liverpool and another European Cup final.
Liverpool pull out all of the tricks of killing a game off. It starts with a counter attack that the Reds probably should have scored from. Saido Mane's flagged offside, the whistle goes and Sturridge, calm as you like, flicks the ball straight into the Kop to prevent a quick free-kick being taken.
Four minutes to go.
Liverpool defend a ball in from the right well, Fabinho and Wijnaldum in particular, throwing themselves in front of anything that moves.
Three minutes to go.
Liverpool are hustling and harrying, Barca are playing the ball around, Gerard Pique's up front, but they're getting no joy as You'll Never Walk Alone blasts around Anfield. To be fair to the away side, they're being patient as they knock it about, but the Reds are sound. The shape is magnificent. 5-4-1. Everyone knows the role. Mane's playing like a spare right back, he's probably the second best right back in the world now. Trent's first, obviously.
Two minutes to go.
Arthur plays a weak sideways pass on the halfway line. He's angry with himself.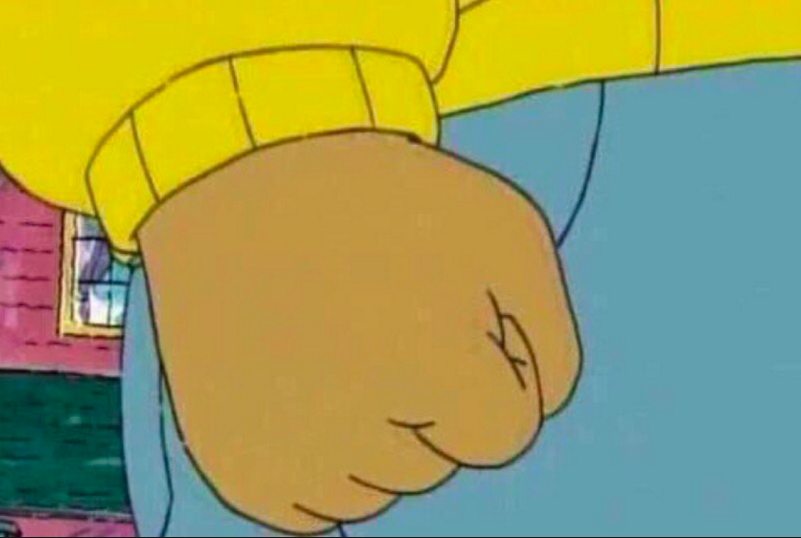 Fabinho, with his go-go gadget legs, sees the pass is short and hustles through, getting payback on Lionel Messi, who won a free-kick last week for smacking the Brazilian in the face with a forearm smash that AJ Styles would have been proud of. Fabinho's just running towards goal. Three lads can't get it off him. Messi clips him, knowing full well Fabinho's about to drill one in from 50 yards if he doesn't. The Brazilian throws himself to the ground with the best dive since, well, since his dive against Newcastle about 72 hours earlier.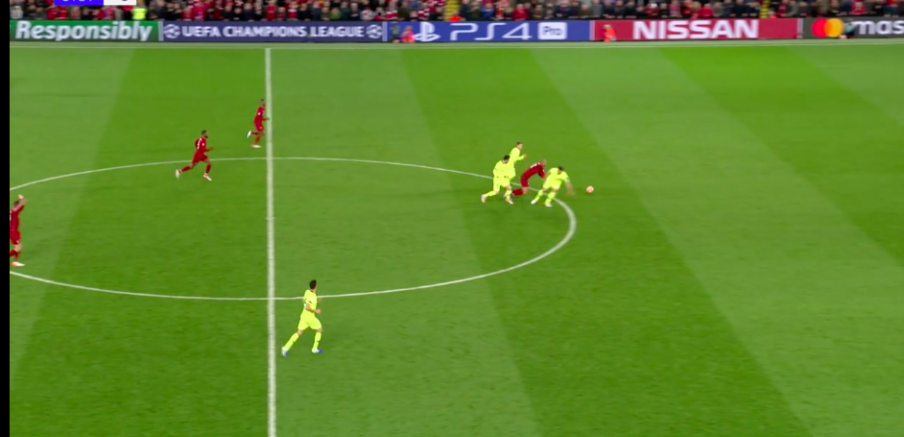 Free-kick Liverpool. The crowd cheer it like a goal as Fabinho gives the ref a look as if to say "Why aren't you booking the little Argentine midget?"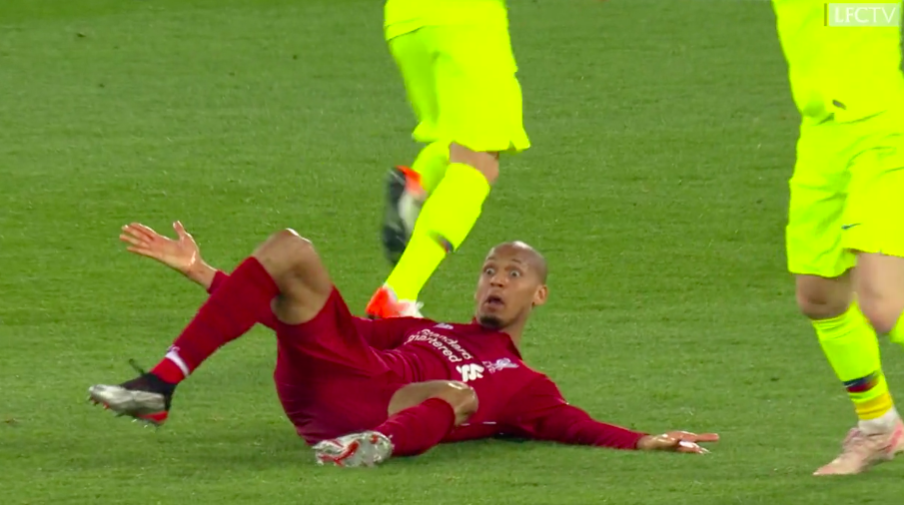 Free-kick's been given. Nobody's taking it. No point really.
One minute to go.
Virgil van Dijk strolls up to the ball, spots James Milner on his own on the left. Rolls it to him with the grace of an angel and Milner sets off towards the corner.
Milner just launches himself on the deck. Fancies a lie-down. He's getting on a bit to be fair to him.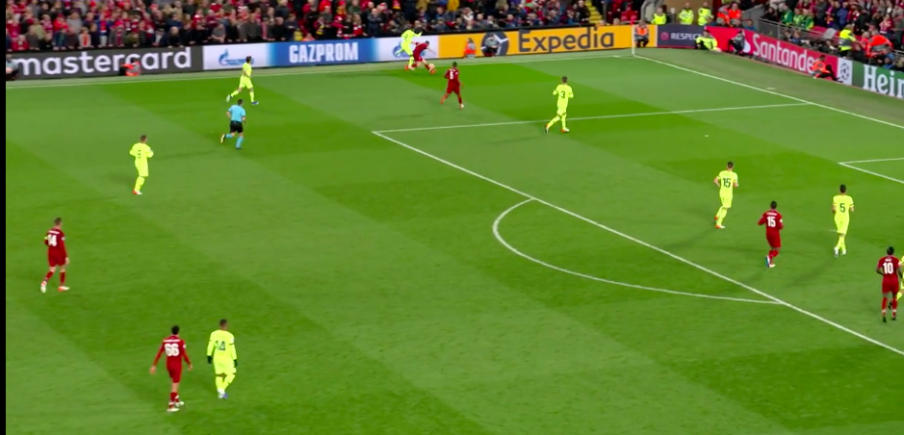 Liverpool take 40, yes 40 magnificent seconds, to take the free-kick. Nobody's bothered by this point. Luis Suarez is already walking towards the tunnel.
Milner's on the deck again. It's glorious time wasting.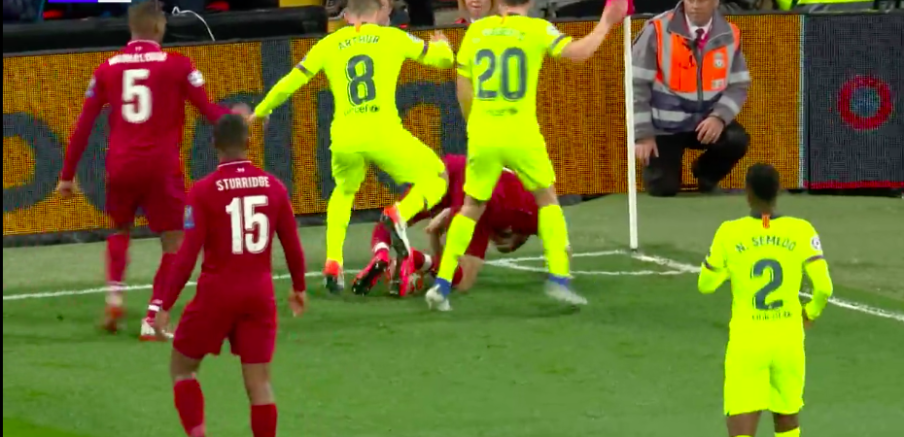 The ref forgets that the ball's been in play for about two minutes of the five minutes of injury time and blows the whistle. The clock's not even at five minutes yet.
Nobody cares.
Liverpool have just made a potential nerve-wracking five minutes the easiest thing in the world.
There's no Eidur Gudjohnsen moment here. These Reds are too smart for that. They've just sh**housed injury time and now they're off to Madrid.
What a team of brilliant, clever, sneaky, glorious fellas.
---